I'm not a big fan of reality television. But I've heard of some show called American Idol. I think it's about the band Green Day and their hit song American Idol. Oh wait that would be Idiot. Huh. American Idol is a show about a bachelor dude that has to race around the world doing various tasks while avoiding getting voted off the island by giving Regis his 'final answer' and picking the suitcases with lowest dollar values in under one minute while eating cow lips in your newly renovated kitchen during a cook-off, all without getting fired by a billionaire with bad hair. That is just too much for me.
So instead, I like to roll with the gang at
Blogger Idol 2011
. I have never entered any blogging contests before, but this one sounded fun. And a bunch of really good bloggers are judges. I looked at the audition requirements and thought even I could do that!! So I entered. I had to tell the judges why I should be one of the twelve finalists, why people like my blog and background on my self.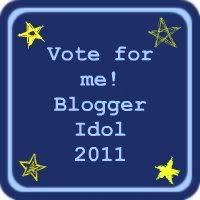 The judges must be nutjobs because they put me in the top twelve. So now I'll be competing in the Blogger Idol 2011 each week. We will be given assignments and then the readers will vote for their favorites. Each week, one contestant gets knocked out. Hopefully you will play along and vote for who you like best once the first week's posts are submitted. I'll remind you!
Here is the audition (500 words or less) I submitted to get myself into this mess:
Hi there. My name is Inigo Montoya. You killed my father. Prepare to die. Oh wait, that is a movie line from Princess Bride. My name is Brett, although my handle on Blogger is WowThatWasAwkward. That's right, I have uttered those words so many times in my life; I decided it would be a good blogging name.

My blog can be found at http://darkstormyloopy.blogspot.com/. You will see it is pretty simple; like me (haha)! I have always wanted my blog to be about the writing, both by me and from the comments rather than filled with lots of graphics, award badges, neon signs, flying Elvises, wrestling midgets and other distractions.

I'm a single father of two awesome little boys. I was still married when I started writing on Blogger a few years ago. But even with a pretty major life change, my blog writing style and choice of topics hasn't changed much. I like going with humor and rarely write an overly serious post. I write a lot about my kids because they are non-stop blog fodder, but I don't consider myself a daddy-blogger. I write about anything and everything and often start with something in mind, but end up somewhere completely different.

It must be working because over the last couple years I have been getting quite a bit of traffic to my blog. Based on the comments, I don't completely suck. So I have that going for me. Which is nice (another classic movie…)

I have never entered any contests or submitted anything to be published. I stumbled across your contest and was intrigued. And then I saw something shiny and went on to eat a burrito. A few days later, I wrote something new for my blog. And then I shuffled a ton of papers around my desk and decided I didn't feel like working and I remembered your contest. So, I am auditioning for your contest because my tummy is full, there is nothing shiny to look at, and I think it will be fun to see if anyone really does like my shit in a competitive environment. Don't crush me, friends.

I think I appeal to the general public based on variety of questionably sane people I have found visiting my blog. Who doesn't like funny? But I also probably appeal to the whackadoodle because I have a little bit of crazy in me. The good kind.

Am I worthy? I don't honestly know. Your mom thinks so. What's more worthy than that? So here I am. Happy to be in your contest and no, that is not a banana in my pocket!

You are busy reading auditions. Remember this one since I'm going to win this thing. Someday, after we have fun storming the castle (seriously, Princess Bride rocks), we will reminisce about the great Blogger Idol contest and I will be thankful that you are nutty enough to have picked me, but not your nose (in public).

Cheers.